Bricks By The Bay 2018 Vendors
There you will find an amazing variety of LEGO® and LEGO-themed merchandise. Many unique items are offered, from bulk bricks to vintage and retired LEGO sets. There will be LEGO jewelry, books, memorabilia, custom printed elements, custom LEGO kits, display and storage solutions, minifigures galore, and much, much more.
You are unlikely to find a greater selection in all the Bay Area! 
A Brick Collector
American Brick Builders
Bay Area Brick Broker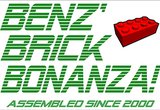 Bricks on Parade








Fig Relocation Program



Hooked on Toys
kidnyoutoys
Lincoln Brickster



Ourkidstoys


Toybox Express