Bricks By The Bay 2019 Vendors
While enjoying all the amazing custom LEGO® creations, make sure to visit our vendors! Get inspired and allow our vendors to supply your LEGO needs so you too can make amazing creations!
Our vendors bring a variety of LEGO and LEGO-themed merchandise. Many unique items are offered, from bulk bricks to vintage and retired LEGO sets. There will be LEGO jewelry, books, memorabilia, custom printed elements, custom LEGO kits, display and storage solutions, minifigures galore, and much, much more.
You are unlikely to find a greater selection in all the Bay Area!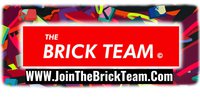 Ourkidstoys